'Tattoo' Dating Sites*
Along with Tattoo Passions (the site you are on now), the sites listed below all focus on connecting tattooed singles with others who are inked or who are ink lovers. The sites listed below range from those focused on dating to others focused on chat. Each site, regardless of the company running it, shares many of the same characteristics as many of the other sites. So, if you are looking for a great dating site focused on inked singles, then there are MANY here to choose from, so look around to find the one that seems like the best fit for you.
AD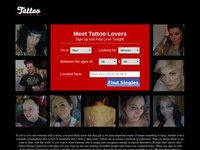 Tattoo Dating Connexion
Meet Tattoo Lovers And Find Love Tonight!
If you find yourself drawn to people who like to express their individuality through their tattoos, then Tattoo Dating Connexion was designed for you. Surround yourself with inked singles and maybe you'll find one you really like.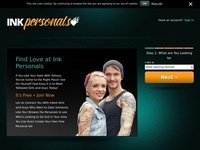 Ink Personals
Find Love at Ink Personals
If You Like Your Dates Sporting Tattoos, Ink Personals Is The Right Site For You! Meet Tattooed Girls and Guys Today!

Tattoo Loop
"Get Artistic with Other Tattoo Lovers at Tattoo Loop!"
If you are looking for a great lookng tattoo dating site, then Tattoo Loop is THE site for you. Aside from the site itself, it is filled with body art loving singles looking to meet other inked singles. Join and find your tattoo loving love today!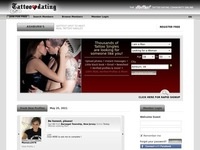 Tattoo Dating
Meet Real Tattoo Singles
Thousands of Tattoo Singles are looking for someone like you! Join Tattoo Dating To Find Tattooed Women and Men looking to meet other Single Tattoo Lovers.

Inked-Dates
Where Tattooed Singles Date
Ready to connect with tattoo lovers? Meet tattooed women and men that are looking for love at Inked Dates. Inked Dates is full of members that love tattoos, members who are tattoo artists and members who are just covered in ink from head to toe.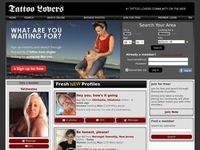 Tattoo Lovers
Top Tattoo Lovers Community Online
Sign Up To Search Through Thousands Of Tattoo Loving Singles Looking For Someone Just Like You!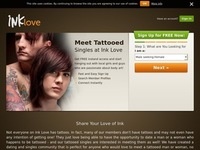 Ink Love
Meet Tattooed Singles at Ink Love
Join a site filled with inked singles who love body art. Half-sleeve? Full sleeve? If you love tattooes, this site is filled with like-minded singles.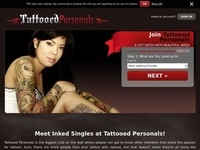 Tattooed Personals
Date Beautiful Inked Singles!
Join Tattooed Personals to find LOTS of inked members who would love to show off their tattoos. Every tattoo has a meaning so what better way to strike up a conversaton than to ask someone about one or two of their sweet designs?
AD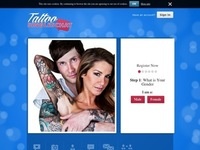 Tattoo Singles Chat
Chat With Unique Tatted Up Singles
If you are bored with chat sites filled with sheep and cubical workers, join Tattoo Singles Chat and spark up a conversation with others who LOVE body art.

Tattoo-Singles
Connect With Inked Men And Women
Find Your Tattooed Soul Mate Today! Search Local Singles Who Rock the Ink! Tattoo-Singles Is Designed Specifically To Help Connect Body Art Loving Singles!

Meet Tattooed Singles
Dating For Tattooed Men And Women
Discover Local Men and Women Who are Tattooed! Compare Tats! Find Singles Who Share Your Love for Ink!

Tattoo BBW Dating
Big Beautiful Inked Women
If you think the only thing better than a large, curvacious woman is one sporting some awesome tattooes, then Tattoo BBW Dating is the site for you.

Tattoo Chat City
"Find Many Amazing Tattooed Men and Women to Chat With!"
Tatted up and looking to meet other inked singles? Strike up a conversation with some great body art lovers on Tattoo Chat City.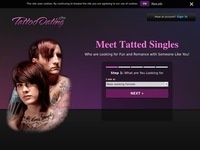 Tattoo Dating Site
Meet Tatted Singles
Join Tattoo Dating Site and find single tattooed men and women from your area at any time of the day or night.
AD
*Sites listed on this page are a combination of ads, affiliate related Sites and general non-partnership related sites that match the theme of Tattoo Passions.